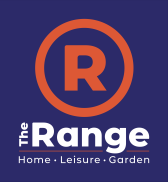 All You Want For Christmas!
Christmas is fast approaching and The Range has a fantastic selection of products
Decorating for a Rustic Christmas
Becoming a more popular theme each year, the Rustic style allows you to truly get creative with nature-inspired materials and colour schemes. Turn your home into the snow-surrounded log cabin you've always dreamed of with these tartan and twine-filled tips…
If you're choosing an artificial Christmas tree over a natural one this year, it's important to get one with green tips for that authentic appearance. When it comes to decorating – if you can find it in the woods in winter then chances are it'll look fab on your tree. If your tree didn't already come with pinecones, they're a favourite go-to for instant rural appeal. Perch them on the branches or hang them like baubles to accent your chosen aesthetic. Skip the sparkly tinsel and opt for lengths of jute, tying it all together with some warm white LEDs.